Have you ever...
felt completely lost in this blogland?
wanted to shout from the rooftops, "I've got it! I know how to blog!"
thought, "Gosh, I want to ask So and So a question, but their blog is too big for them to want to talk to little me"
wanted to help a new blogger with the design of their blog? Or offer some advice on how to grow their blog?
Well, this might be just the place for you...
What if I said that myself, Mallory at From California To Kansas, Kaitlyn from Wifessionals, and Lisette from Northern Belle Diaries were starting the Bigs & Littles Blogging Network?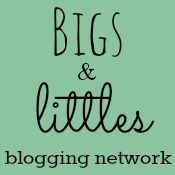 A partnering up of bloggers to teach, to learn, and to grow.
Excited?
We are!
Not only that, but each of us (Kaitlyn, Lisette, Mallory and myself) will be featuring a partnership on their blogs every month! That's eight bloggers!
That's not all...
To help keep you and your blog learning and growing, we'll be giving you new partners every two months!
Our vision is not only for Littles to grow their blogs and learn from Bigs, but someday even graduate to being a Big themselves!
Then this circle of friendship, community, and teaching can keep getting passed on!
If you'd like to sign up, please go HERE to fill out all your info; soon you will be hearing from us regarding your partners!
Finally, the rules:
It's completely free :)
Please be followers of Emily, Mallory, Kaitlyn, and Lisette
If you are unable to continue with your relationship with your partner, please send an email here and we will make arrangements to reassign partners.
If for any reason you feel that your partner is not participating, please email us here
Please be aware if you are not participating, we will remove you from future partnerships(this is out of fairness to your partner, not maliciousness)
Have fun! Make friends!